Stomper
Master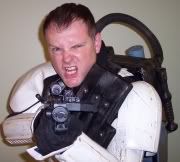 Joined: 01 Oct 2005
Posts: 471
Location: Woodburn, Oregon USA
Posted: Sun Jan 24, 2010 3:39 pm

Post subject: Been offline for a spell, but look what we just scored!!

---

I've been taking a break away from all things prop related and/or Star Wars and Sci-Fi for a while. I've just been concentrating on the job and family these last several weeks, but anyway I thought I'd just share what we were able to score recently!!

It's an '06 Harley Dyna-Glide Street Bob, with about $3k in additional accessories.... It was a trade-in (with 7k miles on it) for a Mercedes (where my wife works), and we scored it for a (relatively speaking) piddly $8600 ($100 over trade-in)... I have had a long-term goal to get me one of these things, and the planets finally lined up jusssssst right!!






_________________
Tony Krewson
FEAR... is not my god!!