Latest Updates, and News
[Update 03-OCT-2008]
Hard to believe that it's been a year of development and nothing much to show for it. Here is a list of test footage we now have available as Apple Quicktime MOV files:
CGI clips that include the Title scroll and Shuttle departure
CGI/Blue screen Test of X-wing flyover
CGI Star Destroyer, sneak peek
Lake Test 2
Track & Dolly Test shots
Blue Screen of Shuttle
Updates, and News
[Update 03-OCT-2007]
CGI artist David Alderson has been working on the Star Destroyer, here is a sneak peek: [Quicktime movie 10mb]. In addition he is working on another scene, a beauty pass, along with some blue screen CGI X-wing footage.
Recent News
[Update 01-OCT-2007]
A new CGI artist has contacted me regarding the needed CGI work. David Alderson from the UK sent me the following images. Click on each image for a larger view! Rendered in Cinema 4D using the Star Destroyer model from this link of CGI models.
| | |
| --- | --- |
| | |
| New planet! Undeside of the ship is now damaged. | The right-hand engine is out... |
| | |
| ...and the center one is flickering. | |
| | |
| | |
Latest Updates, and News
[Update 21-SEPT-2007]
A minor update. We shot some test footage on Lake Nac. back in August, with dubious results. You can get an idea of what was going on here: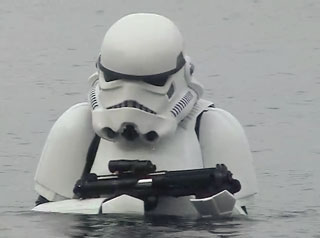 8.3MB Quicktime MOV format. Click on the image to watch.
And here is a shot of some blue screen test done as a proof of concept, kind of like what was done with the matte painting test shot. Again, Herb is my victim, err, I mean subject This was shot against a crummy blue sheet, using a good lighting source, and the Canon XL2 camera, with a wide angle lens.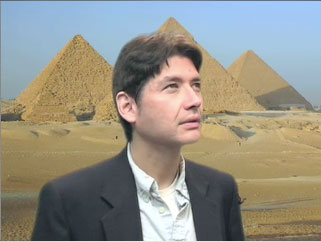 1.2MB Quicktime MOV format. Click on the image to watch.
Next will be a scale model, live action and a digital matte attempt. If all goes well with that, we can say we have the needed technology for the fan film. This is taking much longer than expected.
Latest Updates, and News
[Update 18-June-2007]
A minor update. We are planning to shoot the water scenes, and test some more camera control in the coming weeks. An email will be sent to the film crew detailing when and where. As it stands now, we need 4 troopers for the water scene. The plan is to visit a local lake's swimming area, set up early enough in the evening for a night time shoot with gel lighting, and the camera on the track-n-dolly rig, low to the ground. The biggest issue with these shots is to ask the actors to wear the armor, then hold their breath, go under water, and then surface.
Also, the Imperial Shuttle model has arrived. I'll beging customizing and painting it. As soon as that is done some test shots for forced perspective and minature blue screen work will begin.
Progress is beign made on the Rebel Sniper, and that costume, both backpack and helmet molds are in the works.
Another fan film, this time with Herbert Midgley, is also under preproduction, called '2012'. A camera jib boom, and more track will be needed for the prolonged chase and fight scenes, as well as an improved light, and audio system. Stay tuned for more details.
Updates, and News
[Update 19-March-2007]
Here is the test of the track and skate-dolly rig: LINK It's pretty basic, just testing some camera movments.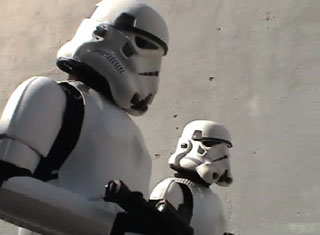 Click on the image above for a peek at the test footage.
Recent Updates, and News
[Update 19-March-2007]
After months of procrastination, the track and dolly rig is now finished. Here are a few shots of the rig:
| | |
| --- | --- |
| | |
| Dolly still needing to be painted a ultra-flat black, and the wheel mounting posts need to be trimmed down. | Here is a shot of the 16 roller skate wheels mounted on a 2 inch angle iron. Using 5/16th inch bolts. |
| | |
| The track is made from PVC pipe and 1x4 boards The PVC pipe is 1-1/4 inch by 10 feet long. In the ends of the track pipe, I mounted some wooden dowels, and the track can interlock together, just like a big model railroad track. | There is a push handle made of 3/4 inch black water pipe. |
Things left to do:
add some more track. I have 20 feet so far, and a 10 foot section costs $12 and takes about 30 mins. to make. Some footage, and a vignette has been shot, with just a few pick-up shots to film and edit in. I will be posting some short clips from this very soon so stay tuned.
A better option for tripod mounting needs to be worked out, as was the only issue we had with the track.
Also, I need to try and make a curved track section.
Latest Updates, and News
[Update 7-March-2007]
WOW, it's been a long time since our last update. Sorry, about taking so long. I've been pretty busy since the last one, and I can't believe that was in October!

I have some work yet to do but over the Spring Break [March 12-16] I plan to finish the improved chest mold. This will give us a better form fitting and accurate chest. I'd like, to have a 'get-together' and upgrade the filming armor with the new one. I'll send out a follow-up email [to the cast and crew] and discuss a date for the meeting once I get some made. These new chest will also be interchanged with stunt versions that will employ a 'squib' technology for a realistic blaster shot.

Also, if all goes well over the break, the track and dolly rig will finally be ready for use. I have most of the materials already, and I just need half a day to build the thing. As soon as that gets built I'll be wanting to test it out.

And, if we can coordinate with Herb, I want to get a shot of 'the bunker', a location I found in Jacksonville. I just hope the site is still available! The goal is during next week's break: get 3 troopers together, head to Jacksonville for a 20 minute shoot. I just need 2 door guards, and 3rd 'walking' trooper for the shot. If you are available durning March 12-16 please email me your schedule. Honestly, it will take longer to drive over there and get suited up, than to film the shot. Let me know if you are interested, the more the merrier. Ideally, I'd have the new chest molds done, we could upgrade the chests that morning, then head out to film.

Also, I now have spare hands, hip boxes, and knee armor, the parts that get beaten up the most. O2 Canisters need to be made, but I'm still having issues with the endcap molds. I seem to recall many of the early suits we did we skipped making them, and I'd like to fix that. On a side note, If you are not using your suit, or feel guilty that it sits in the closet most of the time, let me know. We can always use extra suits, and I don't think it's too hard to find a warm body to fill it, if you can't make it to a shoot.

The Lewis gun project is still in the works, and until I can get my molds ready, thats going to have to wait. Maybe over the break, I can get some final work done to the masters. It's about 90% done now, but that last 10% is a killer.

We are all busy with other projects, and interest in this little endeavor comes and goes. I'm hopeful that this Spring we can get some of the key shots done, and that will keep this project alive.

As the weather gets warmer, and the foliage begins to change, we will want to make the most of the mild weather, before the heat of the Summer sets in. The water shots need to be done, as well as a location shot near Lone Star. And if we can get these sequences done, then we can start working on the other more complex shots.
Recent Updates, and News
[Update 26-February-2007]
Filming on the 'New Legend/I am Legend' fan film has started. As soon as I get some cllips or still of the footage we shot, I'll get some posted. Clint H. is working hard to get this ready for filming in the coming weeks, and even has a house located for the 'attack' scenes, and interior shots.
The fan film, 'The Last Garrison' is still in development, with some behind the scenes work being done. We now have a minature of the Imperial Shuttle, and it is going through a weathering process, with some details being added to make it more visually interesting. Also, a new location for the bunker entrance has been found, with a pick-up shot to be filmed in the coming weeks.
I still have a couple of resin parts and RFT kits, but my supply is almost gone. I'm hanging on to a few spares for the fan film. Please email me if you have any questions. In related new, starting in March, Hasbro is suppose to be offering a DH-17 'Nerf' blaster, so a full review, and converison is planned. The only part of the RFT costume now giving us fits, are the boots. The East German boots from Sportsmans Guide are gone, but other surplus sources still have them.
New information regarding the CMP's M1 Carbine offering can be read here. And new information regarding the latest GIjOE action figures can be found here and here.
Recent Updates, and News
[Update 8-November-2006]
The trooper fan film is still in production, and storyboards, and preproduction are in the works. I'm pretty busy with prop and costume production,
If anyone is interested in a second fan film production, not related to Star Wars, let it be known that the same film crew that is working on The Last Garrison in association with HannaFilm is also tooling up to make an independent version of 'I am Legend' by Richard Matheson. Based on the book, once again, the production will attempt to 'fix' some of the 'so-called' problems with the book, namely the less than acceptable rushed feeling last chapter. This is to be a test plastform for lighting, and camera equipment, and an opportunity for some folks to make a 'zomibe-vampire' flick with a great story. Principal photography is scheduled for December through the Spring, with a release date of April. If you have not read the book, 'I am Legend' get a copy from Amazon.com or at least watch the 'Last Man on Earth' starring Vincent Price. BTW that film is now public domain, and can be downloaded for free from Here. But look for the restored version in widescreen. usually available at the $1 stores for one dollar! I'm creating a new page devoted to this production. Here is the link.
Latest Updates, and News
[Update 2 November, 2006]
Troopers invade East Texas! Thats right, Oct. 28 was the 14th annual downtown Nacogdoches Scare on the Square, and our fan film cast and crew decided to attend this year as s-troopers. Here's a pic: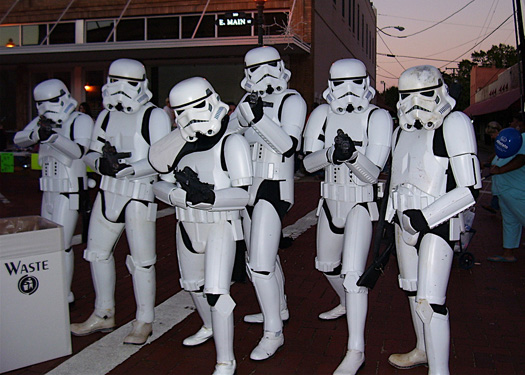 We even made it on the cover of the local newspaper! Here is the photo Kyle Peveto took.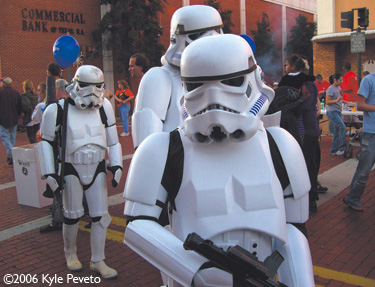 Recent Updates, and News
[Update 24-August-2006]
We had a production meeting on August 12. It was pretty casual, Herbert, Lance, Clint F. and I met to discuss several production issues, including:
Consturction of the track and dolly camera support gear
Storyboard assignments
Reference picture photo shoot
Script revisions
We even made some good headway on the track and dolly rig. We purchased some building materials, [Thanks Lance and Herb!] and I even got a chance to work on the rollers. By the time of our next meeting we should have an 8 foot length of track ready, the dolly built and some test footage shot using the new rig. I'm pretty excited to try this out. Herb is working on an independent film project, and we plan to use it for some track and dolly test shots very soon.
The script was reviewed with Clint F. and some ideas and sketches have been submitted, and are looking great. I'll wait for Clint to post his well done studies of the RFT trooper and others he is working on. Some discussion was made regarding the direction of the two sequences not yet finished, and overall some good progress was made on the script.
The smoke tint visors were used on some test shots, here is one sneek peek: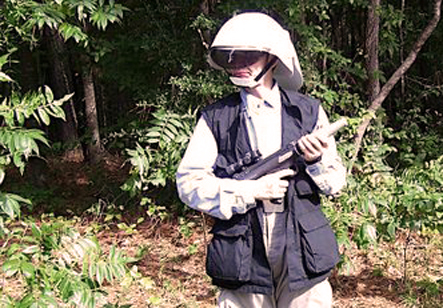 I like the more sinister look these new visors give the RFT's.
Considering this was a 'non-filming' production meeting, we had a good time, and even managed to pull a few parts, eat lots of burgers and fries, and had a great time. Maybe next time we can get more of the crew together.
BTW, some RFT pants were donated by Mark Weber, so a special 'Thank you' goes out to him for his help on the project.
Maybe in September, we can start filming some actual scenes. The Lewis Gun is almost ready to make molds, the Clone trooper helmet project is starting to take shape, and the molds for the sandtrooper backpack boxes, are slowly coming together. Thanks Tony for helping me out with these. Also, the Endor commando donut has passed the first prototype stage, and is ready for mold revisions.
Well, thats about all for now, school has started for me, and I'll be pretty busy with two jobs this Fall, I'll try to keep busy working on the project.
UPDATE: 07-20-06
[Quick Update]
It's been a long time since I have updated the fan film with new info, so here it is:

This time of year, we are on hiatus, as trying to film in the suits is too hot. Preproduction continues on the project, with me working mostly on props, and camera control gear.

The Lewis Gun is 90% done and, if all goes well this weekend, I can start to put parts into silicone. Only a few details are left to add, such as barrel bands, and some minor detail bits, a top coat of primer, and some finish sanding.

As soon as the Lewis Gun prop is done, the next prop to finish work on is the DH-17 master. This will be used for making molds from, so extra care is going into this one to make it perfect for replication.

The see-through visors are still a work in progress, but if all goes well this weekend, I hope to have the prototype ready, dyed and all. In addition, I'm working on the X-wing visor molds, and again, if all goes well this weekend, the prototype should be ready for tinting.
A test pull on the Endor commando donut was made, and I think a few more hours working the molds over, and I should have a better version ready to go. This will be a very small run made for the fan film, and for a Rebel costuming club that I have done work with before.
In other prop news, I finished work on my Luke ESB lightsaber hilt. I got a Graflex flash gun some time back, and finally got around to converting it. A pretty easy job, and I'm pretty happy with it. Not 100% accurate, but sort of my interpretation of what I saw on screen. My next weapon prop will be a C-96 Broomhandle mauser converted to an ESB Han Solo blaster. Silicone molds will be made, and resin 'stunt' versions will be made of these as well.

I really need to get all thes projects done so I can finish work on the Halo armor, and get that project put to bed. Then it's the Viper helmets, and the Aliens Colonial Marine helmet project! Then there is the Sandtrooper back pack project, the EPII Clone Helmet, ah the list goes on and on.

Larry is working on some more storyboards so I hope to get started on my portion soon as well. We really need to get this nailed down before we try to start shooting. I guess I need to make this a priority. Anyone who wants to help on the storyboard, just ask!
Heath has been working on the X-wing costume, and has been busy making ammo pouches, and other 'cloth' goods. He has also checked into our group renting a booth at the 'Scare on the Square'. He has some ideas for donations for a good charity, and we need to talk about this as a group the next time we meet. Last year, a photo op would have been a great way to make some charity funds. I'm letting Heath take the lead on this project.

Herb is taking a screenwriting class taught by none other than Joe Lansdale. Herb says he is getting all sorts of great ideas that will help out fan film. Thanks Herb, keep us updated.

Clint Hanna has been working most of the summer out of town, but I did get a phone call from him this past week, and he too is having film production woes on his epic as well.

Clint Fultner has been working on his X-wing helmet, inspired by the helmet designs from Vietnam, his helmet is making great progress. Construciton of his trooper armor is on hold until the Fall.

Lance has been trying to sell his boat, so any water shots we plan will have to be 'plan B' for now. He is also involved with a local band, so I hope we can get some time scheduled together to work on some projects soon.
Recent Updates, and News
[Update 15-May-2006]
I've been working on the Lewis Gun T-21 project for a few weeks. The idea is to use the wooden version as a mold master, make silicone molds from this pattern and then cast resin parts from the silicone molds. Still in the works, but here is a peek at the project so far:
The receiver and stock individual parts, and the assembly. Click on the image for a larger view.
The barrel assembly with taper ring still in the works. Click on the image for a larger view.
UPDATE: 04-28-06
[Quick Update]
Here is a quick update of things related to the fan film project.
I've been working for the past few weeks to get my vacuum forming table repaired. It is back in action, and is working well. I have a few projects I need to do, including a set of helmets for the indie film: Secrets of the Rebellion. This week if all goes well, I should be able to finish my MDF masters fo the T-21 Lewis Gun replica blaster, and start working on the silicone molds. A very limited run of these guns are planned. Besides the E-11, this is the principal weapon used in the fan film. These will be a multi part resin kit with some PVC pipe added as the barrel. After the T-21 Lewis Gun replica blaster, the next project is to finished the X-wing pilot helmet molds, and start on the Endor Commando helmet. Also, a solid resin 'stunt' version of the E-11 and the HD-17 are being planned. Here is a sneak peek at the T-21 Lewis Gun mold master:
| | |
| --- | --- |
| | |
| T-21 Lewis gun forward receiver. | Still some work to do! |
The MP44 Hoth blaster is also making some headway, but that project has been put on the back burner until the Lewis Gun master is complete. I need to get these other projects out of the way first. But, as it stands now, the resin master cast is made. Details need to be added, and then the stock, foregrip and scope need to be added. Then, a silicone mold made.
The dianoga monster is still in the works, and it looks like we will have to make about 3 different versions that we can use for the scenes. So much for making one that does it all. I am currently needing studio space to store all these props and to build sets. So far, no luck.
UPDATE: 03-20-06
[Quick Update]
Here is a quick update of things related to the fan film project.
I picked up an extra pair of boots for the RFTs, and a couple of extra pairs of pants, and shirts, so we should be able to field at least 4 or 5 RFTs between Herb and I. Possibly a few more. I'm short a helmet or two, and we need some more blasters but that costume is making good progress. We should be able to shoot some 'enemy' shots very soon.

Over the break, I picked up some new material that I want to test with as a possible rubber stunt gun material. More details to follow but this stuff shows promise, and if it works out, we can simply make a mold of the whole gun, pour this stuff in, and when it cures, have a rubber version of the gun, ready to take a beating.

I have started pulling together parts to make the Endor Commando, our Sniper for the film. This costume will be pretty east to make, with the helmet and blaster being the exception. I also picked up 2 of the hooded overcoats for these costumes. They will need to be dyed, and then spray-painted camouflage. The rest of the costume is a tan long sleeved t-shirt, and some tan pants painted the same camouflage as the hooded overcoat. Boots are desert issue combat boots with gaitors added.

The Sniper helmet is a work in progress, and I have found some diagrams for making the donut. The rest of the helmet is a modified WWII flight helmet, called a AN-H-15, and can still be found at surplus stores.

The X-wing helmet is still in the works. We only need a couple of these. I still need to finish the visor, [I do have the clear material for the visor, and the mold for the inner dome. I think this is making some good progress. The rest of the costume is mostly sewing, something I don't know how to do.

The script is getting a final treatment, and I plan to finish the 'vault' sequence. It will be by far the hardest parts to film.

I've not started working on the storyboards yet, but I think Larry is about to finish his work on them for now.
I'm almost done with my study of the Lewis Gun, and I should have a MDF mock-up done in a few weeks.

The Vac-form machine is down for repairs and upgrades so nothing will be made until I can get time to work on it.

Filming should be able to resume in a few weeks. Here in East Texas, the leaves are starting to appear, and the foliage will soon look good for our filming needs. We need to schedule a production meeting sometime before our next filming day, I don't know when, yet. I'm hoping we can start filming some of the sequences in April. None of us want to wait until June or July to start filming again. LOL.

UPDATE: 02-26-06
[Quick Update]
We had a great, mini-meeting on Sunday. Herb, Heath and the new guy Clint came over, and we did some test fittings with Heath's new and improved pauldrons, and ammo pouches. Check ot the photo gallery here!
Here are some shots from yesterday:
| | |
| --- | --- |
| | |
| Herb sporting his #2 helmet, with Heath's orange pauldron, ammo pouches and holster, and Tony's Lewis Gun. | Clint, sporting his RFT garb. |
| | |
| Clint and Herb, fighting a common foe? | Clint, in the classic action pose. |
| | |
| Herb needs to get that armor dirty! Does his helmet make Herb look taller? | Reference shot for the X-wing shoot down sequence. |
| | |
| Reference shot for the X-wing shoot down sequence. | Reference shot for the X-wing shoot down sequence. |
Also, some design work has been done on the tentacle project, and I think I have an idea for a functional internal armature that will give us some movement. For close up shots, an arm sock puppet will be used, for grabbing and other tight shots. A third tentacle will be constructed of foam and heavy wire, to be used as 'bendy" wrap for the actors. The big one, 10-15 footer will be controled from a lever off screen.
Here you can see the idea for the full scale tentacle armature. Sections of PVC pipe can be used to make the sleleton of the tentacle, and each segment is laced with a heavy rope or cable. Mounted to a platform, and a control lever, the tentacle would have 2 positions. One is rigid, the other is relaxed. As tension is applied, the tentacle gets more and more rigid.

You might have seen children's toys that do something similar.

A half scale mock-up is next, and could be used for 'forced perspective shots, if we decide on a second background tentace.

In the illustration, the gaps between the PVC pipe segments is exaggerated.

The next step is sculpting some sort of latex skin, and mold that will wrap not only the full scale tentacle, but the arm sock, and the foam & wire bendy.
UPDATE: 02-24-06
[Quick Update]
The $18 boots came in, and are actually pretty nice. Check them out:
| | |
| --- | --- |
| | A good coat of acetone or 'deglosser', and several coats of white shoe dye, followed by a coat or two of white polish, and we should have a cheap, passable version of the trooper boots. |
Also, I have located a source for cheap US Navy workshirts. I'm still working to get a final price, but I think I can get these for $5 a shirt. I should know more in a few days.
The X-wing helmet project is going well, and I now have a prototype; here is a sneak peek:
| | |
| --- | --- |
| | Note the detail. One problem I have been having with other vacuum formed kits, is the soft detail, in particular, the mohawk, and the ram-horns. A little more sanding, and this one is good to go! |
| | Here is a shot of the test pull. Still a lot of work to do, but it's getting there. More pics to follow. I still need to come up with a paint scheme, internals, and some sort of working visor. Note the battle damage to the temple. |
The boot are the same ones we use for the Fleet Trooper. Here is a link to a $12 black leather glove/gauntlet. And here is a link to $20 gauntlets. I guess I need to start an X-wing costume page.
UPDATE: 02-15-06
[Recent news on the project]
Here is a quick update on what I've been working on lately. I've started working on the X-wing helmet sculpts, and they are progressing well. Heath and I pulled a prototype, and I got one glued together. I think it looks pretty good. Still, the mold needs some more sanding, and a few details need to be added, but it is getting there. Pics to come soon.
Also, I've started working on the Endor Commando costume. We will be using one or two of these as our Rebel sniper rig. There are a lot of different options on this Endor Command/ Last Garrison Rebel Sniper, so, some mods will be made to accomodate this. Details will follow, but if anyone can help me on this project, I would appreciate it! The costume will include the following parts:
Endor Helmet - complete with the 'donut' and the skull cap!
Cammo Jacket/Vest/Shirt - this is a hard one to nail down. Some screen caps will help!
Cammo Pants - I'm thinking of using the same $18 BDU pants in light tan, and paint them cammo
Boots/Gaitors - I have a pair of wader boots that are almost perfect. The gaitors will have to be custome made.
Backpack - frame and boxes will have to be custom made.
Blaster - several options are on the table. The traditional Endor blaster will work, and is pretty easy to scratch build. [airsoft AR15/M16 used as a base] Another option is to make a Hoth trooper blaster [I like this version better] and a final option would be to introduce a new blaster to the mix, a WWII German FG42 paratrooper rifle as a Star Wars universe sniper gun. [one of my favorites]
Small Accessories like wrist communicators, grenades, belts, binoculars, and such.
In other news, I've picked up some $18 boots that will work great for the Stormtrooper boots. I just need to dye them white. As muddy as our troopers will be, these are going to be perfect! The Last Garrison Fan Film troopers, if you get a pair while they are on sale, I can dye them white, and put a clear protective sheen coat on them for you.
I've also gotten an extra black BDU for $10, and an extra couple of Navy work shirts for $6. Between Herbert and myself, we should now have enough parts to make 4 Rebel Fleet Troopers. We need as many Rebels as we can get! I'd like to see a dozen or so on screen if we can pull that many together. I just need to make a few more Rebel blasters! Also, there are some East German boots still available for $18. If you plan to be in the film, you need these boots! Great for both the RFT's and the X-wing Pilots, as well as TIE fighter, and Imperial Officer's boots. The cost for a RFT right now looks like:
Navy Work Shirt $12 [you need 2 @$6 each]
Pants $18
Black BDU [for vest] $10
Boots $18
Helmet [part of the fan film production] $0
Blaster [part of the fan film production] $0
Total: $58 plus some odd shipping, but if I can get a group order together, we can save on this expense. Heck I'll pay the shipping!
The pants are actually really nice, cargo pocket pants, great for casual wear, and the boots are really comfy! Even the black vest is not that bad for street clothes. [may or may not be your style though]
The storyboards are looking great, so let's all say "thanks!" to Larry for all his hard work. Keep up the great work! I plan to jump in and do some art myself when Larry cries 'uncle'. 140 some odd storyboards, yikes!
Lance and I have been working on a few projects. Lance is experimenting with the pyrotechnics needed for small fireball explosions, and I have been working on a cheap way to make some posable mannequins to stand in for dead bodies. More details will follow, but let's just say it as a lot to do with 10W-G electrical wire, PVC pipe, and wood!
Heath is making good progress on the trooper backpacks, ammo pouches, and pauldrons. He has also submitted his application to the 501st.
Thats all for now.
UPDATE: 02-06-06
Recent news
A lot has been going on since the last update. I've managed to make a few more blasters, started work on the X-wing helmet molds, finished 90% of the script, and they storyboards are cranking along quite nicely. If you have a chance check them out. Here are some pics of the latest blasters: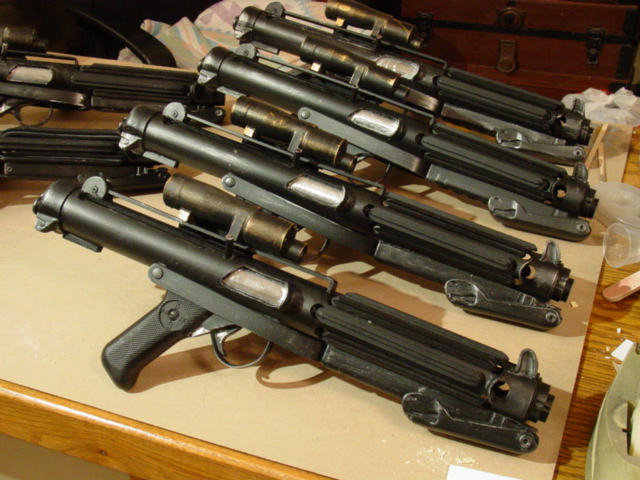 Also, in production is, some more Fleet Trooper costumes. If you have a chance, get some of the boots, and vests, and shirts ASAP. You never know when these will be gone again. Right now they are cheap! Check the Fleet Trooper page for details.
This gives us a total of:
5 stunt e-11 blasters as seen in the picture.
1 hero e-11
1 background e-11 [not counting Herb's Hasbro version]
1 stunt Lewis T-21 BFG
1 stunt MG15 BFG
2 stunt Rebel DH-17's
I'm working to bring the DH-17's up to 5 stunt versions and should have one for everyone by the time we are ready for the Rebel shots.
Heath is working on the MP40 magazine pouches, and has a couple of them almost ready to show. As soon as they are ready, I'll get some pics shot and posted. Tracking down a Sam Browne fastener was a challenge according to Heath!
Also, the script calls for a Rebel Sniper, and the plan right now is to use an "Endor Commando" costume as the basis for this. As seen in Return of the Jedi. Anyone want to tackle that costume?
The X-wing helmet is making progress, and I hope to get a test helmet ready in a few weeks.
The focus now is on storyboard art, some odd-ball props, and adding a few more helmets to the mix. I'm almost done with Herb's #2 helmet, and with luck, a few armor replacements, a different helmet, and this will give the few troopers we have the impression of a lot more. Wardrobe change gives us additional 'characters'.
Thats about it for now, but we do need to have a 'get-together/hamburger & french fry cookout' some time in Feb. It's been a while since our last meeting! Let me know when a good weekend will be, and we can start to get our plans pulled together.
UPDATE: 12-29-05
[The latest news on the project]
Well, its been a crazy few weeks since the last update, and I wanted to bring everyone up to speed on what is going on.
First, the script is coming along, and is now available for review. There are still a few holes in the story that we need to firm up but we are making progress. I'm pretty happy with it so far. Iit needs a few 'human interest' elements, among other things. Check it out! Right now the script is some 18 pages, and that means a 15-20 minute film so far.
Larry came down and we made some great progress working on storyboarding the script. The art is looking great, so if you want to take a peek at what the story will 'look' like, check it out. Larry is working overtime to get the art ready, so as I get them, I'll post them to the storyboard page.
I have been trading parts, and now have the X-wing pilot helmet and chest box parts. Once I sculpt the molds for the X-wing helmet, and prep the chest box mold for vacuum forming, we will have another Rebel to add to the film! I hope to have a fresh sculpt of the X-wing helmet ready to go by mid Spring. This will be made from my famous MDF/Bondo method using the helmet as reference. This also will give us the option to make TIE fighter helmets and costumes too!
The Norwegian MP40 ammo pouches came in, and Heath will be looking into making some of these for the film. Also, Heath has tracked down some mariachi boots as an affordable option to the nice but more expensive CA boots.
Happy New Year Everyone!
UPDATE: 12-8-05
[The latest news on the project.]
Well it's been a busy month, but now I am able to get back onto some preproduction projects, and I wanted to let everyone know what was going on.
I'm still tweaking the first 'act' of the script. My goal is for Larry and I to get together and hash out some storyboards so that John will have an idea on what we need for the CGI work. Right now my main concerns have been with the costumes, and props. I still have an X-wing pilot costume to build, but I think we are in pretty good shape right now. We need a few more bits and pieces, and I've reworked some molds for the blasters to make assembly a lot easier, faster and more accurate. We still need one or two heavy blasters and boots. The stormtrooper armor is for the most part done, and we have plenty now for the project. One has even been weathered a bit and is looking great.
We need a few more Rebel Fleet Trooper costumes, so, if you can help out, and spring for a cheap BDU vest, and pants, I think we can get you a blaster and helmet. The boots are also cheap. I'd like for everyone that has a set of stormtrooper armor to eventually have a RFT costume as well. That way we can all 'double duty'.
Heath has made holsters and pauldrons for everyone, so we are in great shape there. I've started some research for the trooper field packs, and I hope to have a prototype pack ready to show by our next production meeting.
Larry and I are planning a 'storyboard day' and I hope we can get some good solid ideas down on paper of exactly what the basic script will look like. Maybe over the Christmas break we will make some good progress in the storyboards.
We still need to get to work on the dianoga monster. The "eye" should be easy enough to make, but that darn tentacle. Again, once we get the storyboards done we can see where and how to use it. The dianoga threat is a key part of the danger in the film. I really hate to cut it out.
Some matte painting work is yet to be done, but I have some new ideas to really spice up the look for some of the establishing shots. More to come, but in the meantime, check out: http://www.fengzhudesign.com/tutorials.html and look at lession 6. If we can pull off some matte paintings that are in this vein, I'll be happy. I think that look captures the jungle-over-run base that I am looking for.
We need to get together and do some 'action' shots for the storyboards and poster/web use. This will require one trooper, and one RFT, and should take only a couple of hours to get the shots needed.
I still need to get back to work on the track & dolly rig and the camera boom. Time and money have prevented me from making much progress but I hope to have the dolly ready soon.
We need to set a date for our next production meeting, and establish what we will be 'doing' on that meeting. I see no need to film more shots of us just standing around. Until the storyboards are done, I and the weather warms back up, don't plan to do much filming. Script finalization and storboarding, equipment, and props/ costumes are what need the attention next.
Thats all I have for now.
Jim
UPDATE: CGI Star Destoryer
[update 11-02-2005]
John Burns, a CGI expert has submitted some excellent renderings of his CGI Star Destroyer, here is a sneak peek: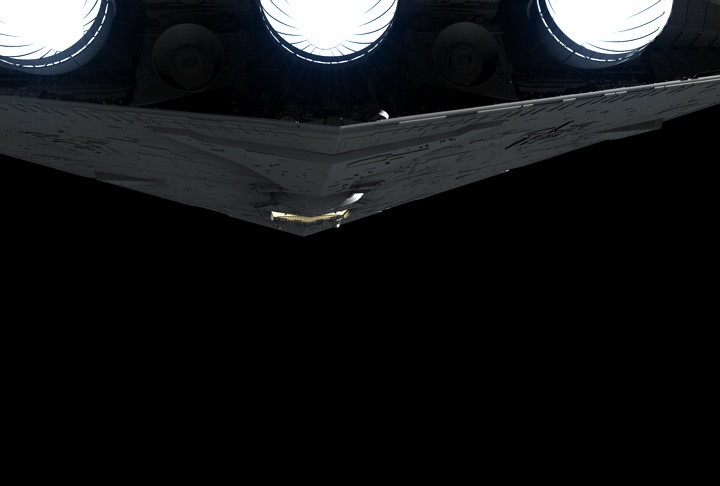 Click on the full 720x480 version! The goal is to 'damage' the Star Destroyer, with blaster scorch marks, impact craters, and exposed and glowing innards, along with one engine out, and another failing. In the distance, we see our little planet. John has also introduced me to some really cool CGI software. Details are:
Effects LabDV: http://www.fxhome.com this software has a built in muzzle flash effect, and beam effect. You can download the trial version for free. The cost is $115 or so. Not too bad. All you have to do, is open a video clip, add the effect, and you are done. Cool stuff. They also have a most excellent chroma key editor that looks almost too good to be true.
Particle Illusion's Wondertouch: http://www.wondertouch.com is another program you can download and try for free. Pretty neat stuff that package can do. Check it out.
Cinema 4D V9.1[ http://www.maxon.net/pages/products/c4d/cinema4d_e.html ] is what John used to render a downloaded version of the Star Destroyer CGI model. Here is a sneak peek:
All this software is for Mac OSX and Windows XP, so everyone can download the demos and play around with it. I am working on a clips page, that has the .DV format files and the clips we want to have the effects in, so everyone can experiment and try making these effects.
And here is one that is a mock-up of the planet approach sequence: [click on image for a larger view]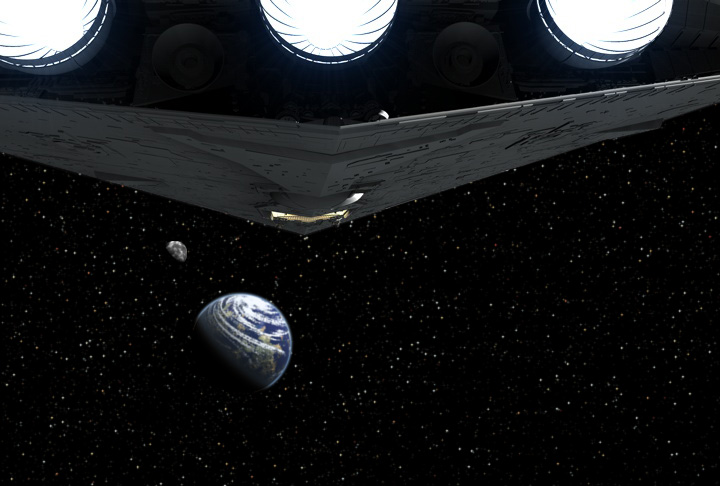 The stars, moon and planet were done with a Photoshop plug-in from http://www.flamingpear.com . This group makes some really nice rendering plugins, and one really neat one is called Flood. Check them out! John and I are working to have some Hi-Res test reel done soon, so stay tuned.
Here is the link to the Imperial Star Destroyer [ISD] CGI Test Clip. Its a MP4 h.264 format so you will need a recent version of Quicktime to play it. This is a reduced scale version but I think you will like it. Unzip the file and you are good to go. [video iPod format!] I have an 80mb version if you want to see it, let me know!
John also has introduced me to other CGI models, so we might be able to do some of the X-wing shoot down, and Imperial Shuttle footage as CGI as well. Stay tuned! Link to more CGI models.
Here is another quick and dirty test clip, this time with some RFTs: troopers3.mov. Its quick and dirty, but I wanted to get the RFTs online. More editing to come.
UPDATE: Planet Approach Test
[update 07-10-2005]
Well, working in Photoshop, I managed to make the following test image of the planet as seen from space.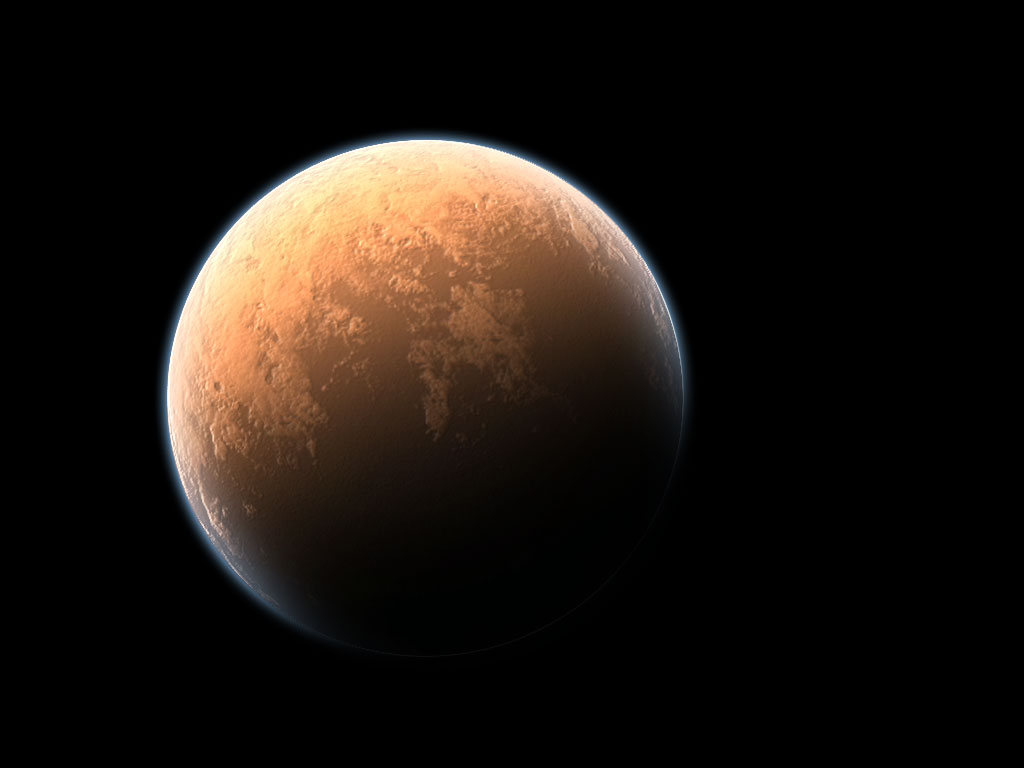 This is an early draft of the planet but I wanted to get this on the site to share.
Test Footage 2 [MOV]
Here are a couple of additonal edits of the test footage:
http://www.tk560.com/planet1.mov [with a quick peek at the planet approach, some title slides, and a different music score]
http://www.tk560.com/troopers2SC.mov [with the planet approach and a filler image of the temple ruins, no title slides and the Imperial March music]
Pablo is still working on the first set of blaster effects so those will be added back in as soon as they are done. Here is the temporary version:
http://www.tk560.com/last_gasrrison_test_final.mpg To give you an idea of what the blaster shots will look like.
UPDATE: Second Round of Test Shots
[update 07-07-2005]
We filmed for a few early morning hours over the July 4th holiday weekend. I got a rough draft of the footage edited down, and mixed with some pre-effects shots from the first test footage taken in June.
Test Footage 2 [MOV]
Test Footage 2 [MP4] Right-click and save target to your hard drive.
Why A Stormtrooper Fan Film?
[update 06-15-2005]
I guess this proves how much of a Star Wars nut I really am. Before I even finished my armor molds, Herb and I were making "The Visitor" a short, cheesy, funny fan film about a trooper from Star Wars magically transported to a uber-fan's cluttered home, where he discovers all sorts of common, everyday items. It was a lot of fun, and shot on a budget of one bag of microwave popcorn. We had a script and Herb and I acted and traded off as camera operators. We filmed it in a couple of hours one night. The result was pretty amateurish, but most folks that's have seen it, like it for what it is, a no budget fan film. This was the genesis of another fan film, but the next one would be a lot better.
After I finished the armor molds, and was in the middle of constructing the first suit for Herb, we knew we would have to make another movie. Well, being the 'king of no-budget' films, Herb decided to make a few films with his new costume. The results were, pretty good. This I felt proved the suits would look good on film, and with each new fan film made, our skills at movie making gets better.
The latest endeavor is a high action homage to the stormtroopers. Loosely based on the last few minutes of the WWII film "Baatan!" 1943, starring Robert Taylor, and features a host of action and combat sequences lifted from films like Predator, Apocalypse Now, Aliens, Saving Private Ryan, and others.
Bataan! is now on DVD. Amazon has it.

Editorial Reviews
Amazon.com
Tay Garnett was a hard-nosed, job-of-all-work director who moved from studio to studio and genre to genre throughout the golden age of Hollywood. He never achieved the status, let alone the distinctive signature, of a Howard Hawks or Raoul Walsh; still, with talent, brashness, and cojones to spare, he was responsible for a slew of cheerfully vulgar entertainments, and several genuinely fine films.
Bataan may well be the best. Certainly it's one of the strongest Hollywood salutes to the war effort while World War II was still raging. In his grittiest role to date, Robert Taylor (sans mustache) plays a U.S. Army sergeant fighting a rear-guard action in the Philippine jungle, covering Douglas MacArthur's retreat. His platoon is the usual wartime study in democratic motley: veterans (Lloyd Nolan, Thomas Mitchell, Tom Dugan) thrown together with green recruits (Robert Walker, Barry Nelson), a Latino (Desi Arnaz), a black (Kenneth Spencer), not to mention a couple of stalwart Filipinos (Roque Espiritu, J. Alex Havier), and several officer types (George Murphy, Lee Bowman) with sense enough to defer to the sergeant's judgment. As in John Ford's desert classic The Lost Patrol, the group is whittled down through misadventure, disease, and skirmishes with the ever-advancing Japanese, till only a handful remain for a still-shattering last stand.
Bataan was made at MGM, and the principal setting, a jungle clearing overlooking a strategic bridge, stinks of the soundstage. In other respects, however, Garnett manages to introduce shocking, un-Metro-like realism into the proceedings. In an early scene of bombardment, a GI, blinded, crawls out of the wreckage of a field hospital only to have a smoking roofbeam crush his bandaged skull. There's nothing cosmetic about the wounds in this movie; they hurt and they bleed, and people get them during the most gruesome hand-to-hand combat in any '40s war movie. --Richard T. Jameson
Ever since Return of the Jedi came out and the ridiculous defeat of the stormtroopers by teddy bears, er, I mean ewoks, I have always wanted to see the troopers as a formidable battle hardened foot soldier. I wanted to portray them as honorable, loyal, and willing to sacrifice themselves for duty. Like they were originally suppose to be, and were shown in Star Wars: A New Hope. This fan film presents the events of a post Return of the Jedi, as the remnants of the Empire's forces are being 'mopped-up' from around the galaxy. [Something like what happened to the Japanese forces after WWII] Presented from the trooper's perspective, and our 'enemy' in this film is, you guessed it, is the Rebel Fleet Troopers. What better way to vindicate their defeat in the beginning of Star Wars, than to have them whip-up on our troopers.
In this film, we will get to see some familiar faces. We will see a bunch of troopers, Rebels fleet troopers, that 'trash compactor monster', and a few surprises. No teddy bears here! it will be gritty, like a WWII war movie!
Meticulous detail has been paid to the costumes, and now, we are exploring the world of DIY camera equipment, and state of the art video editing. Stay tuned for developments.
Here are some links to DIY camera equipment:
Camera crane
Some test footage has already been shot. Our effects guy had edited some CGI blaster shots into the test footage and it looks great. Locations have been reviewed by the cast and crew, and we plan a series of test shots during the months of June and July.
Production on a Hatchway, and the Trash Compactor Monster is currently being developed. The film project has no official deadline, but check back often as a production report will be posted soon. Currently I'm working on creating some X-wing pilot gear, some Endor Commando type camouflage, and a Rebel Fleet Trooper costume, complete with helmet.
Here are some still from the first day shooting:
And here is a link to the test footage.[no effects] Its Quicktime MOV file so you will need Quicktime to play it.
Here is the latest version of the test footage with some blaster effects added, and the Imperial March inserted.
and a little Photoshop fun: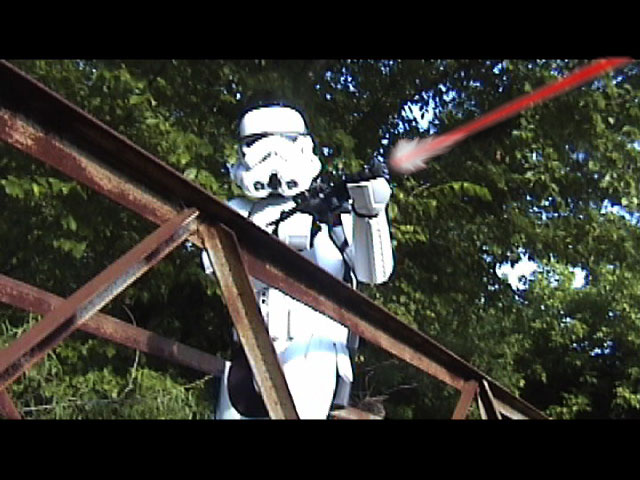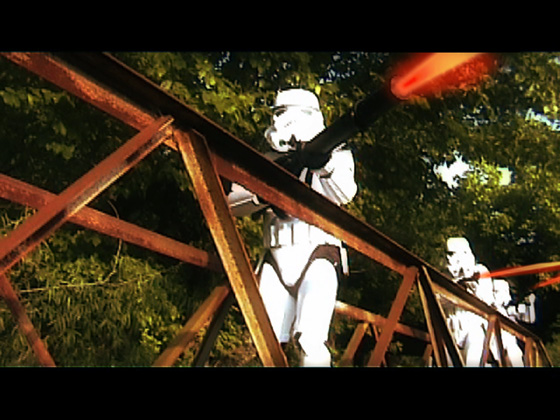 Cast and crew members are:
Jim Egner - writer, director, producer, editor, actor, stunt man, prop master, set designer, costume design, location scout, videographer camera equipment design
Herbert Midgley - actor, editor, co-producer, stunt man, prop maker, costume design, digital audio, videographer, location scout
Lance Kitchen - actor, stunt man, prop maker, costume design, graphic design, camera equipment design, location scout
Larry Kitchen - actor, prop maker, costume design, graphic design, matte painting[s] storyboard artist, associate producer
Coy Lothrop - actor, prop maker, costume design, creature effects
Pablo Roldan*- CGI special effects, special audio effects, video effects
Randy Watson - cinematographer, director of photography, camera operator
Heath Mcartney - fabric prop maker, ceramics, blaster squibs and physical effects, actor, associate producer
Zach Herring* - TBA
Ryan Durr* - TBA
Tony Krewson - prop maker, associate producer
John Burns* - CGI special effects, 3D models
Clint Hanna - set design, script editing, actor, associate producer
James 'Clint' Fultner - model maker, actor, graphic design
Mark Weber - Supplier of BDU pants
David Magoffin - supporter
David Alderson - CGI special effects, 3d Modles
We need your help! We are looking for sponsors, doanations, and other financial assistance to finish the project. If you donate $30 or more, you will get your name in the credits, and a copy of the film on DVD. Use the "make a donation' button below. Be sure to send us your name and mailing address.