CONTENTS:
Communicators
Phasers
Tricorders
Helmets
Blasters
Stormtrooper Armor
Rebel Fleet Trooper
Lightsabers
Astro-Mech Droids
How-to Guides
Vacuform Table
Cylon Centurion
Viper Pilot Helmet
M41-a Pulse Rifle
Motion Tracker
B5 PPG
Prop Photo Gallery
Retro Box Designs
Repair/Restoration
Replica Parts
40th Anniversary
Replica Weapons/Gear
Reenactment Units
ME262 Project
Civilian Marksmanship Program
M1 Garand Rifle
M1903 Springfield Rifle
M1 Carbine
Discussion Board
Lauren Photo Albums
David's Photo Album
Egner II Design
Fan Film Project
The Mac Plus Project
Please note, that the images, logos, and respected artworks, are property of the original copyright owners. TK560 has no affiliation with any of the intellectual property owners. This is a fan site dealing with movie and television replica props, original GIjOE action figures, World War II memorabilia, and marksmanship/ firearms interests. Most of the images used on this site are photographed by the site owners. Official logos are used to identify specific products/ manufacturers.

Low Budget Studio
Take pictues of your favorite props, with very little expense, and the results look great. Here's how.
You need a neutral background, and for my needs, posterboard would do. Then you need even lighting. Almost any source will work, I used four of those kitchen cabinet lights. Even spacing until the shadows go away gives the best results. Here are some samples.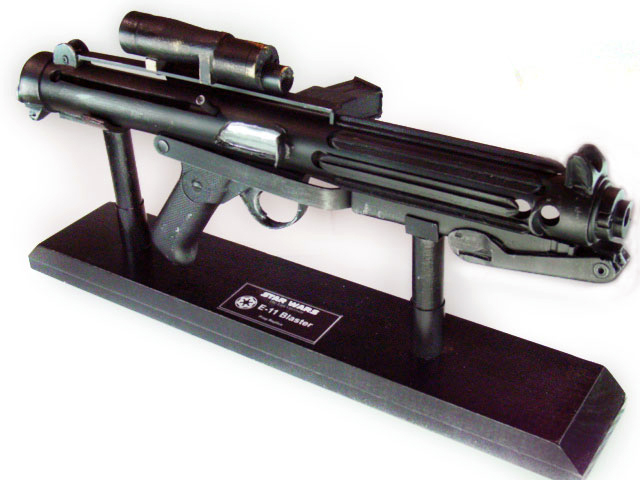 Display rack for the E-11.
Here are some pics of the Norwegian military issue MP-40 magazine pouches used for the Sandtrooper armor conversion. Click on the images for a closer look.
Click here for a gallery. These images were taken with the same set-up, and then tweaked just a bit in Photoshop.
| | |
| --- | --- |
| | |
| Star Wars comm. made from scrap and a resin hoiv-mix mic tip. | Macro-binoculars from a "Sub command" game. |
| | |
| TNG Tricorder | TOS Phaser I |
| | |
| TOS Phaser II | TOS 'Vegas' communicator. |